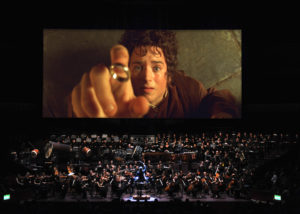 Peter Boyer has been appointed as assistant/cover conductor for The Lord of the Rings: The Fellowship of the Ring Live in Concert, in three performances with the Seattle Symphony on July 15, 16, and 17, 2016. The performances present the complete epic film by Peter Jackson, projected with the Oscar-winning score by Howard Shore performed live.
The conductor for these performances will be Ludwig Wicki, founder of Lucerne's 21st Century Symphony Orchestra, and principal conductor of The Lord of the Rings in Concert.
The LOTR in Concert productions, which have been presented worldwide, are represented by CAMI Music. This is Boyer's third engagement in the assistant/cover conductor role, following engagements for The Return of the King with the Melbourne Symphony (with conductor Justin Freer) and the Munich Symphony (with conductor Shih-Hung Young).
Read More about the Performances