In addition to his work for the concert hall, Boyer is active in the film and television music industry. His skills as an orchestrator (one who works from composers' sketches and demos to create complete orchestral scores for recording) have been employed on numerous high-profile projects. Boyer has contributed orchestrations to more than 35 Hollywood film scores, from studios including Warner Bros., 20th Century Fox, Paramount, Disney, Pixar, Universal, Sony/Columbia, MGM, Lionsgate, Marvel, and Relativity Media. Boyer has orchestrated music for several of Hollywood's top composers, including James Newton Howard (Fantastic Beasts 1, 2 & 3, The Hunger Games: Mockingjay – Part 2, The Huntsman: Winter's War, Red Sparrow, The Nutcracker and the Four Realms), Michael Giacchino (Jurassic World, Inside Out, Star Trek (2009), the Oscar-winning Up, Cars 2, Super 8, John Carter, Mission: Impossible III, Speed Racer), Thomas Newman (the James Bond film Skyfall, Finding Dory), the late James Horner (The Amazing Spider-Man, Living in the Age of Airplanes), Alan Menken (Mirror Mirror), Mark Isham (Dolphin Tale, The Conspirator), Harry Gregson-Williams (Arthur Christmas), Heitor Pereira (Minions), Aaron Zigman (Wakefield, The War with Grandpa), Graeme Revell (Pineapple Express), John Ottman (Fantastic Four), and the late Michael Kamen (Open Range, First Daughter, Against the Ropes). Boyer has worked alongside many of Hollywood's leading orchestrators and arrangers, including J.A.C. Redford, Pete Anthony, Tim Simonec, Brad Dechter, Tim Davies, Ladd McIntosh, Kevin Kliesch, and Mark Watters.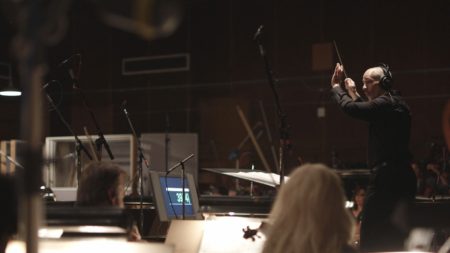 With his background encompassing the fields of both concert music and film music, Boyer has been involved with several high-profile productions of film music in concert. In 2012, as a member of the music team for Pixar in Concert, Boyer orchestrated suites from the scores to Toy Story 3 by Randy Newman and Wall-E by Thomas Newman. Premiered by the San Francisco Symphony, Pixar in Concert has been performed by major orchestras worldwide. Boyer has had repeated engagements for The Lord of the Rings in Concert, serving as assistant/cover conductor for the CAMI Music productions of The Return of the King with the Melbourne Symphony Orchestra (2014), the Munich Symphony Orchestra (2015), and Orquestra OBC Barcelona (2019), and for The Fellowship of the Ring with the Seattle Symphony (2016). Boyer has worked with conductors Ludwig Wicki, Justin Freer, and Shih-Hung Young on these productions. Boyer worked alongside J.A.C. Redford on the music team which prepared James Horner's Titanic Live for its premiere at London's Royal Albert Hall in 2015.
For television, Boyer has twice arranged and orchestrated music for the Academy Awards (Oscars), and contributed orchestrations to several episodes of the ABC series Once Upon A Time for composer Mark Isham. Boyer composed original scores for episodes of The History Channel series Engineering an Empire; cues from his scores were included in the A&E Networks Production Music Library, from which they have been used in many television programs. Boyer has also scored several short films, and his music has appeared in various documentary projects.