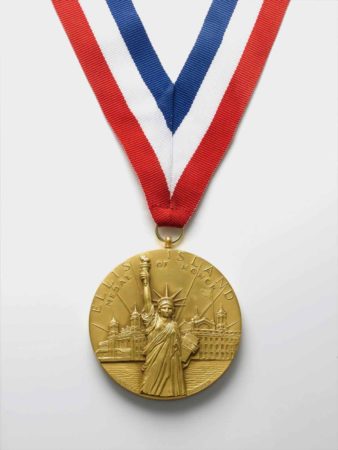 The Ellis Island Honors Society (EIHS) has announced that Peter Boyer will be among the recipients of the 2019 Ellis Island Medal of Honor, a highly prestigious annual award which is officially recognized by the United States Congress.
As described on the website of the EIHS: "The Ellis Island Medals of Honor are presented annually to a select group of individuals whose accomplishments in their field and inspired service to our nation are cause for celebration. The Medal has been officially recognized by both Houses of Congress as one of our nation's most prestigious awards, and is annually memorialized in the Congressional Record."
Since the Ellis Island Medal of Honor was founded in 1986, it has been awarded to distinguished and diverse Americans, including Presidents Bill Clinton and Ronald Reagan, as well as five additional Presidents of the United States. Past Medalists have included Vice President Joseph Biden, Senators John Glenn and John McCain, Supreme Court Justices Sandra Day O'Connor and William Rehnquist, Generals Colin Powell and Norman Schwarzkopf, and Nobel Laureate Elie Wiesel.
Other notable Medalists have included Buzz Aldrin, Muhammad Ali, Hon. Hillary Clinton, Walter Cronkite, Joe DiMaggio, Kirk Douglas, Olympia Dukakis, Michael Eisner, Gloria Estefan, Renée Fleming, Lee Iaccoca, Quincy Jones, Rita Moreno, Arnold Palmer, Rosa Parks, Gregory Peck, Itzhak Perlman, Chita Rivera, Martin Scorsese, Paul Simon, Frank Sinatra, Eli Wallach, and Barbara Walters, among many others.
The group of 2019 Medalists will include Congressman Adam Schiff, singer/dancer Paula Abdul, CNN's Dr. Sanjay Gupta, former Google Executive Chairman Eric Schmidt, IBM CEO Ginni Rometty, and The Coca-Cola Company Chairman Muhtar Kent, among others.
The letter from the EIHS notifiying Boyer of his selection for the Medal of Honor specifically cited his work Ellis Island: The Dream of America, and its PBS Great Performances production with the Pacific Symphony.
The gala event will take place on May 11, 2019 at Ellis Island. More than 300 service members participate in an opening ceremony that includes a joint-service color guard representing all five branches of the military. The medals are presented during a black-tie dinner in the historic Great Hall.
Boyer stated: "I am truly overwhelmed to learn that I will be receiving the Ellis Island Medal of Honor. I've long been aware of the many distinguished Americans who have received this special recognition, and it's touching to learn that I will join this group. I'm most grateful to Chairman Nasser Kazeminy and all the members of the Board of the Ellis Island Honors Society for their support of my work, which is deeply meaningful to me."
http://eihonors.org/medal-of-honor/2019-medalists