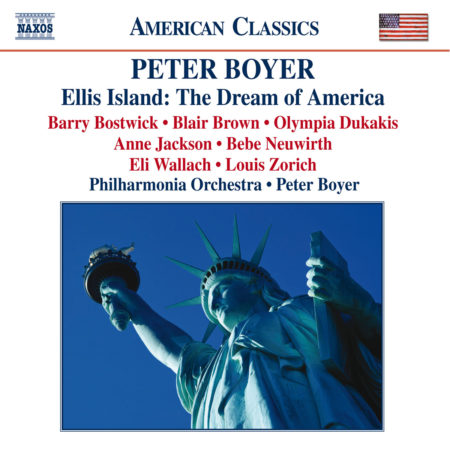 In May 2005, Naxos released Peter Boyer's Ellis Island: The Dream of America in its American Classics Series. Nearly two years in the making, this recording of Boyer's most acclaimed and ambitious work was made in three cities on two continents, and features world-class performers.
In February 2003, Boyer conducted the renowned Philharmonia Orchestra at London's Air Studios in sessions dedicated to the orchestral tracks of the recording, with top London recording engineer Geoff Foster. In September 2003, Boyer worked with Grammy- and Tony-winning director Martin Charnin (lyricist/director of the musical Annie) in New York City recording sessions of the spoken texts of the immigrants' stories. These sessions featured a stunning cast of Oscar-, Emmy-, and Tony-winning actors: Barry Bostwick, Blair Brown, Olympia Dukakis, Anne Jackson, Bebe Neuwirth, Eli Wallach, and Louis Zorich. These outstanding actors brought the stories of these Ellis Island immigrants to life in an unforgettable way. Post-production was done in Los Angeles with scoring mixer Casey Stone.
In fall 2004, Boyer signed an agreement with Naxos of America to exclusively distribute Ellis Island: The Dream of America in its American Classics Series. This internationally renowned series of recordings of American repertoire includes composers such as Adams, Barber, Bernstein, Copland, Corigliano, Gershwin, Hanson, and Ives, among many others; and Boyer's recording proudly joined that esteemed company. Following the recording's release by Naxos, it was broadcast by more than 100 classical radio stations around the United States and internationally. In December 2005, the recording of Ellis Island: The Dream of America received a highly prestigious nomination for a GRAMMY Award for Best Classical Contemporary Composition, in the 48th annual GRAMMY Awards.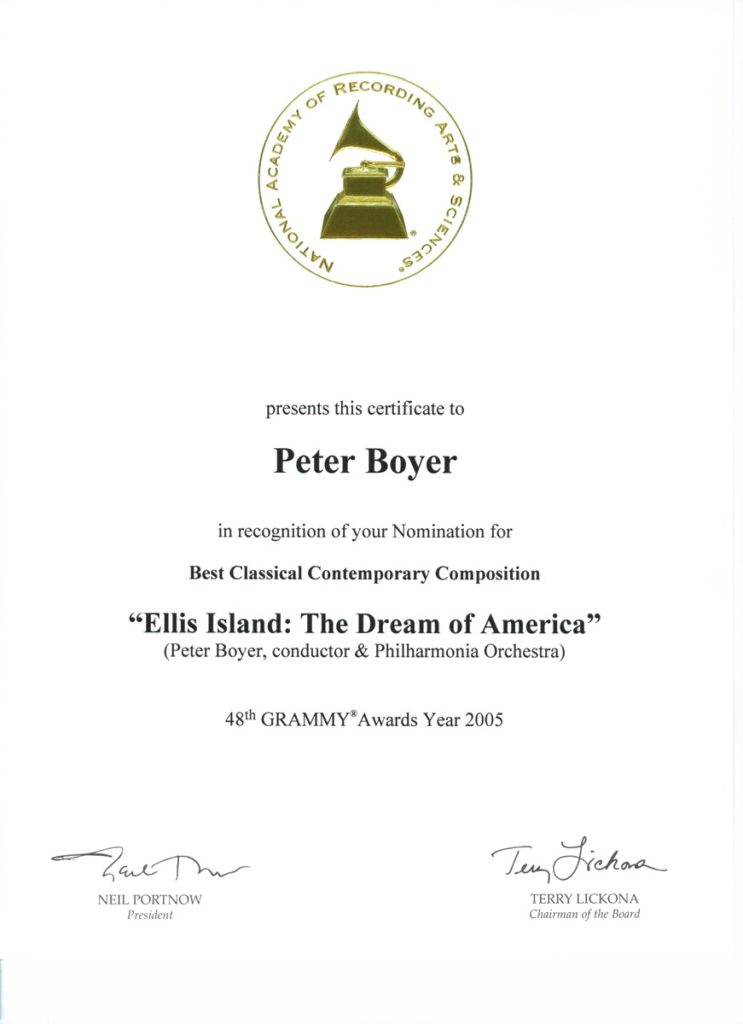 Ellis Island: The Dream of America
Philharmonia Orchestra
Peter Boyer, conductor
1. Prologue
2. Words of Helen Cohen, emigrated from Poland, 1920; read by Blair Brown
3. Interlude 1
4. Words of James Apanomith, emigrated from Greece, 1911; read by Louis Zorich
5. Interlude 2
6. Words of Lillian Galletta, emigrated from Italy, 1928; read by Olympia Dukakis
7. Interlude 3
8. Words of Lazarus Salamon, emigrated from Hungary, 1920; read by Eli Wallach
9. Interlude 4
10. Words of Helen Rosenthal, emigrated from Belgium, 1940; read by Bebe Neuwirth
11. Interlude 5
12. Words of Manny Steen, emigrated from Ireland, 1925; read by Barry Bostwick
13. Interlude 6
14. Words of Katherine Beychok, emigrated from Russia, 1910; read by Anne Jackson
15. Epilogue: "The New Colossus" (Emma Lazarus, 1883); read by all actors